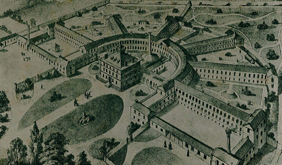 A website chronicling the history of the Devon County Mental Hospital (formerly the Devon County Lunatic Asylum) at Exminster has recently launched. The site is an outgrowth of a series of projects undertaken by Nicole Baur and Jo Melling at the Exeter Centre for Medical History at the University of Exeter, along with John Draisey of the Devon Heritage Centre.
Included on the site are sections that detail the history of the hospital's setting and operation and describe four case studies from archived patient records. The site also features a detailed bibliography of publications related to the hospital, as well as a section of multimedia material and a page soliciting memories from those with some association with the hospital. As the site itself describes,
This website takes you on a fascinating journey through the history of the Devon County Lunatic Asylum at Exminster. Based on archival case notes and supplemented by Medical Superintendents' and Commissioners of Lunacy's reports as well as interviews with former staff, we tell the stories of real patients and their journey into, and life within, the asylum, hoping to highlight changes in the legislation and care of people suffering from mental health problems.
The entire site can be explored here.