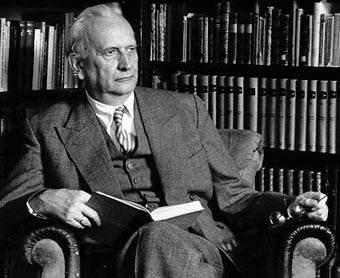 The September 2013 issue of History of Psychiatry is now online. Included in this issue are articles on the Weberian influence on Karl Jaspers' (left) work, psychiatric analyses of Bavarian royalty, Swedish child psychiatry, and more. Full titles, authors, and abstracts follow below.
"The theoretical root of Karl Jaspers' General Psychopathology. Part 2: The influence of Max Weber," by Tsutomu Kumazaki. The abstract reads,
The present study explores and compares Jaspers' methodology of psychopathology with Weber's methodology of sociology. In his works, Weber incorporated the arguments of many other researchers into his own methodology. Jaspers respected Weber as a mentor and presented arguments that were very similar to Weber's. Both Weber and Jaspers began from empathic understanding, but at the same time aimed for a rational and ideal-typical conceptualization. In addition, their methodologies were similar with respect to their detailed terminology. Such similarities cannot be seen with any other scholars. This suggests that Weber may have played an integral role as a mediator between his contemporary scholars and Jaspers. Thus, Weber may have had the most significant influence on Jaspers.
"The Bavarian royal drama of 1886 and the misuse of psychiatry: New results," by Heinz Häfner and Felix Sommer. The abstract reads,
The deaths of King Ludwig II of Bavaria and Bernhard von Gudden, Professor of Psychiatry in Munich, in Lake Starnberg near Munich on 13 June 1886 have often been mentioned in the psychiatric-historical literature and in fiction. Continue reading New Hist. of Psychiatry: Karl Jaspers, Bavarian Royals, & More →