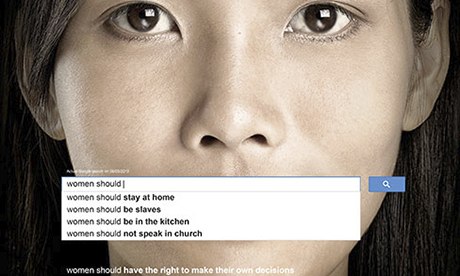 This is part of a special series of posts on the digital history of psychology from members of the PsyBorgs Lab at York University, in Toronto, Canada. The full series of posts can be found here.
A few weeks ago, I saw in an article on The Guardian website that the organization UN Women was running an ad campaign aimed a demonstrating how badly women are regarded around the world. The campaign centered on entering phrases like "women should" into a Google search box and seeing what suggestions Google made to "autocomplete" the search string. The idea was that, because Google has a massive database of the ways in which people generally finish search strings, the Google suggestions would reflect the most popular completions. Google's suggestions were not terribly complimentary toward women. "Women should" was autocompleted with phrases like, "stay at home," "be slaves," "be in the kitchen," and "not speak in church."
 After recovering from my initial horror, I thought that this might be an interesting approach to finding out about trends in popular belief more generally, so I decided to try it out the phrase, "psychology is." The suggestions I got were: "not a science," "bullshit," "the study of," "empirical," and "useless." These completions were not exactly shocking to me, but they are rather disheartening if you think (as many psychologists do) that the discipline has, over the last century-and-a-third, achieved a relatively secure status among the sciences.

I sent  off to three psychology e-mail lists to which I subscribe the suggestion that other people might try this out. I did not relay my exact results, but I did indicate that the outcomes would be less happy than they might expect. Soon afterwards, one person wrote back saying that they didn't understand what I was on about. The autocompletes they had gotten to "psychology is" were "defined as," "the study of," "best defined as," "not a science." Not exactly favorable – three of the four are incomplete sentences – but not nearly as negative as I had gotten: no "bullshit," no "useless."
Only then  did I remember that the Google search engine does not give the same results for everyone. It customizes its responses based on the search history of the person doing the search. So, my question immediately became, how much variability is there between people in this kind of search? Had this one other person and I covered pretty much the entire range, just by coincidence? Or, was everyone going to be wildly different from each other? I decided to ask a number of people to try it out to see what would happen.
I am not one of these people with hundreds or even thousands of Facebook "friends." I have "only" 104. Many of these people are other historians of psychology, several from my own school. Quite a few are historians of science, psychologists, and baseball researchers, along with a number of old friends who toil in a random assortment of professions. Not exactly a random sample. Nevertheless… Continue reading Psychology is… A Google Autocomplete Adventure →