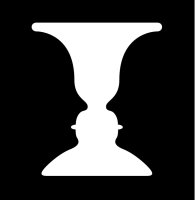 Scholarship on the history of psychology in Denmark has a new addition: Edgar Rubin and Psychology in Denmark. The volume is the work of Jörgen L. Pind, Professor of Psychology at the University of Iceland. Danish psychologist Edgar Rubin is perhaps best known today to students of psychology through his figure-ground illusion, Rubin's vase (right).
As described on the publisher's website,
Edgar Rubin and Psychology in Denmark tours a tumultuous century of history, politics, culture, and thought as reflected in the intellectual life of Denmark following the Golden Age of Kierkegaard and H. C. Andersen. Rubin's scholarly journey takes him from the debate over the scientific study of "the soul" to the maturation of perceptual psychology, providing both human context for our modern understanding of consciousness and a timeline for the recognition of psychology as science. Besides his revolutionary discoveries in visual perception, less-known aspects of his work are explored, such as his observations on taste and the perception of speech, as is his relationship–and reluctant contribution–to Gestalt theory. In these pages, Rubin is portrayed as a thinker simultaneously of his time and place and distinctly universal and modern.
More detailed information about this volume can be found here.