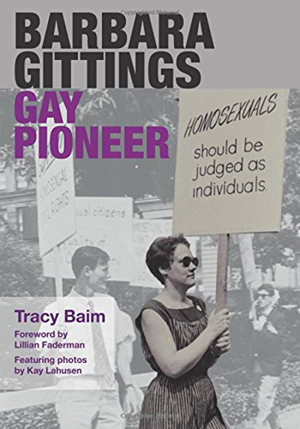 The Journal of Gay & Lesbian Mental Health has just published a review of the recent book Barbara Gittings: Gay Pioneer. As Jack Drescher notes in his review Gittings, as part of a lifetime of LGBT activist efforts, pushed to remove homosexuality from the American Psychiatric Association's Diagnostic and Statistical Manual of Mental Disorders. Drescher notes,
Gittings, at Lahusen's suggestion, sought an openly gay psychiatrist to present at a 1972 APA symposium entitled "Psychiatry: Friend or Foe to Homosexuals? A Dialogue." Along with Gittings and [Frank]  Kameny, the panel included a gay-friendly heterosexual analyst, Judd Marmor. As none of the gay psychiatrists she knew would appear openly gay in public—at the time, one could lose one's medical license because homosexuality was illegal in almost every U.S. state—Barbara Gittings convinced John Fryer to appear in disguise as Dr. H. Anonymous.

Fryer, wearing an oversized tuxedo, a rubber Richard Nixon Halloween mask, and a fright wig, explained to his fellow psychiatrists the pain of the professional closet. [Kay Tobin] Lahusen's photograph of the masked Dr. H Anonymous, now gone viral on the Internet, is a chilling, yet humorous, iconic moment in the history of the LGBT civil rights movement. Further, the panel and the hard work of Gittings, Lahusen, Kameny, and Fryer led to the APA's removing "homosexuality" from its Diagnostic and Statistical Manual (DSM-II) the following year.
More on Gittings and Tracy Baim's biography can be found here.