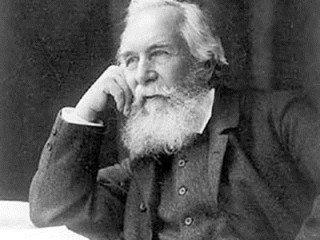 Forthcoming in the European Journal of Developmental Psychology is an article by AHP's Christopher Green exploring the relationship between American psychologist G. Stanley Hall's developmental theory and the work of Ernst Haeckel (right) on recapitualtionism. Full details follow below.
"Hall's developmental theory and Haeckel's recapitulationism," by Christopher D. Green. The abstract reads,
G. Stanley Hall was one of the leading American psychologists of the late nineteenth and early twentieth century. He is best known today for his administrative accomplishments—founding the first psychology research laboratory in the US, launching the American Journal of Psychology and other journals, presiding over Clark University, and assembling the American Psychological Association, among other things. In his time, though, he was also well known for his pioneering work in what came to be called developmental psychology. The theoretical foundation of this research was the recapitulationist evolutionary theory of his contemporary, Ernst Haeckel. Whereas Haeckel proposed that the embryonic development of each organism follows the evolutionary history of its species, Hall argued that the postnatal developmental path of the child's mind and behaviour follows the evolutionary path of the human species as a whole. Thus, according to Hall, children are psychologically similar to "primitive" humans, and "primitive" humans are psychologically akin to our children of today. This article explores the relationship between Hall's work and Haeckel's.