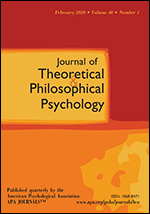 AHP readers may be interested in an article in the November 2017 issue of the Journal of Theoretical and Philosophical Psychology.
"Carl Rogers' and B. F. Skinner's approaches to personal and societal improvement: A study in the psychological humanities," by Jack Martin. Abstract:
Carl Rogers and B. F. Skinner were highly successful 20th century American psychologists who founded historically important schools of psychological inquiry and practice. Their theories, research, and professional practices were embedded within but also challenged American sociocultural concerns and conventions. The focus of this article is on how their research, theories, and ideas, especially those related to the freedom and control of persons, were drawn from their own life experiences and interacted with their penchants for personal freedom versus personal control. The deeply personal bases of Rogers' and Skinner's contributions to psychology also are instructive with respect to several issues in the theory of psychology, including the role of values and personal interests in psychological science and practice, relationships between basic research and applied research and professional practice, the generalization of results from experimentation and research, questions concerning human agency, and the place of social advocacy and reform in psychological science and professional practice. More generally, the work reported herein demonstrates the utility of biographical inquiry in particular and the psychological humanities more generally for theoretical purposes in psychology.