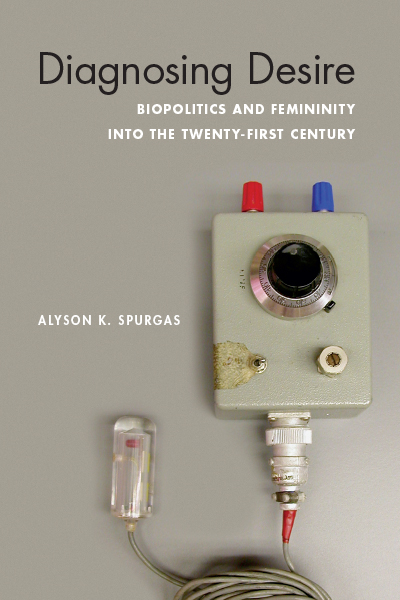 AHP readers may be interested in a recent book by Alyson K. Spurgas Diagnosing Desire: Biopolitics and Femininity into the Twenty-First Century:
In Diagnosing Desire: Biopolitics and Femininity into the Twenty-First Century, Alyson K. Spurgas examines the "new science of female sexuality" from a critical, sociological perspective, considering how today's feminist-identified sex researchers study and manage women with low desire. Diagnosing Desire investigates experimental sex research that measures the disconnect between subjective and genital female arousal, contemporary psychiatric diagnoses for low female desire, new models for understanding women's sexual response, and cutting-edge treatments for low desire in women—including from the realms of mindfulness and alternative healing.

Spurgas makes the case that, together, all of these technologies create a "feminized responsive desire framework" for understanding women's sexuality, and that this, in fact, produces women's sexuality as a complex problem to be solved. The biggest problem, Spurgas argues, is that gendered and sexualized trauma—including as it is produced within technoscientific medicine itself—is too often ignored in contemporary renderings. Through incisive textual analysis and in-depth qualitative research based on interviews with women with low desire, Spurgas argues for a more radical and communal form of care for feminized—and traumatized—populations, in opposition to biopolitical mandates to individualize and neoliberalize forms of self-care. Ultimately, this is a book not just about a specific diagnosis or dysfunction but about the material-discursive regimes that produce and regulate femininity.
Contents
Acknowledgments
Introduction Diagnosing Gender through Desire: How You Know You're in Bed with a Woman
Chapter 1 Sexual Difference and Femininity in Sex Therapy and Sex Research: Examples from the Nineteenth, Twentieth, and Twenty-First Centuries
Chapter 2 Interest, Arousal, and Motivation in Contemporary Sexology: The Feminization of Responsive Desire
Chapter 3 Women-with-Low-Desire: Navigating and Negotiating Sexual Difference Socialization
Chapter 4 Embodied Invisible Labor, Sexual Carework: The Cultural Logic and Affective Valorization of Responsive Female Desire
Chapter 5 Reclaiming Receptivity: Parasexual Pleasure in the Face of Compulsory and Feminized Trauma
Conclusion The Freedom to Fall Apart: Feminine Fracturing and the Affective Production of Gendered Populations
Appendix
References
Index