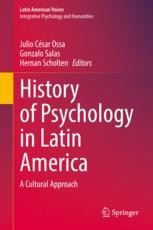 A new book on the history of psychology in Latin America will interest AHP readers. Edited by, Julio César Ossa, Gonzalo Salas, and Hernan Scholten History of Psychology in Latin America: A Cultural Approach is described as follows:
This book presents a cultural history of psychology that analyzes the diverse contexts in which psychological knowledge and practices have developed in Latin America. The book aims to contribute to the growing effort to develop a theoretical knowledge that complements the biographical perspective centered on the great figures, with a polycentric history that emphasizes the different cultural, social, economic and political phenomena that accompanied the emergence of psychology.

The different chapters of this volume show the production of historians of psychology in Latin America who are part of the Ibero-American Network of Researchers in History of Psychology (RIPeHP, in the Portuguese acronym for "Rede Iberoamericana de Pesquisadores em História da Psicologia"). They present a significant sample of the research carried out in a field that has experienced a strong development in the region in the last decades. The volume is divided into two parts. The first presents comparative chapters that address cross-cutting issues in the different countries of the region. The second part analyzes particular aspects of the development of psychology in seven countries: Argentina, Brazil, Chile, Colombia, Mexico, Paraguay and Peru. Throughout these chapters the reader will find how psychology made its way through dictatorial governments, phenomena of violence and internal armed conflict, among others. Dimensions that include rigorous analysis ranging from ancestral practices to current geopolitical knowledge of the Latin American region.

?History of Psychology in Latin America – A Cultural Approach is an invaluable resource for historians of psychology, anywhere in the world, interested in a polycentric and critical approach. Since its content is part of the "cultural turn in psychology" it is also of interest to readers interested in the social and human sciences in general. Finally, the thoroughly international perspective provided through its chapters make the book a key resource for both undergraduate and graduate teaching and education on the past and current state of psychology.
Table of Contents
Historiography of Latin American Psychology: Notes and Challenges
Ossa, Julio César (et al.)
The Jesuits in the History of Latin American Psychology
Massimi, Marina
A Comparative History of Psychology During the South American Dictatorships (1964–1985)
Polanco, Fernando Andrés (et al.)
The Development of Psychology in Latin America: Geopolitical Contexts and Psychosocial Processes
Arias Gallegos, Walter L. (et al.)
Culture, Politics, and Society in the History of Psychology in Argentina
Klappenbach, Hugo (et al.)
Psychology in Brazil: The Trajectory of a Science and a Profession
Jacó-Vilela, Ana Maria
Psychology in Colombia: A Story from Violence
Aguilar, Juan Fernando (et al.)
Psychological Approach to the Study of the Original Peruvian Man
Caycho-Rodríguez, Tomás (et al.)
Psychology, History, and Culture in Paraguay
García, José E.
Psychology and Education: Childhood Mental Hygiene in Chile (1920–1946)
Salas, Gonzalo (et al.)
A Different Source for the Study of Psychology in Mexico: Catholic Education
Rodríguez Preciado, Salvador Iván