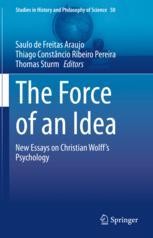 A new volume on Christian Wolff's psychology, edited by Saulo de Freitas Araujo, Thiago Constâncio Ribeiro Pereira, and Thomas Sturm, will be of interest to AHP readers. The Force of an Idea: New Essays on Christian Wolff's Psychology is described as follows:
This book presents, for the first time in English, a comprehensive anthology of essays on Christian Wolff's psychology written by leading international scholars. Christian Wolff is one of the towering figures in 18th-century Western thought. In the last decades, the publication of Wolff's Gesammelte Werke by Jean École and collaborators has aroused new interest in his ideas, but the meaning, scope, and impact of his psychological program have remained open to close and comprehensive analysis and discussion. That is what this volume aims to do.

This is the first volume in English completely devoted to Wolff's efforts to systematize empirical and rational psychology, against the background of his understanding of scientific method in metaphysics. Wolff thereby paved the way to the very idea of a scientific psychology. The book is divided into two parts. The first one covers the theoretical and historical meaning and scope of Wolff's psychology, both in its internal structure and in its relation to other parts of his philosophical system, such as logic, cosmology, aesthetics, or practical philosophy. The second part deals with the reception and impact of Wolff's psychology, starting with early reactions from his disciples and opponents, and moving on to Kant, Hegel, and Wundt.

The Force of an Idea: New Essays on Christian Wolff's Psychology shows not only that Wolff's psychological ideas have been misinterpreted, but also that they are historically more significant than traditional wisdom has it. The book, therefore, will be of interest to historians and philosophers of science, historians of philosophy and psychology, as well as to philosophers and psychologists interested in understanding the roots of scientific psychology in 18th and 19th century German philosophy.
Table of Contents
Introduction: Reevaluating Christian Wolff's Psychology
Araujo, Saulo de Freitas (et al.)
Who Was Afraid of Wolff's Psychology? The Historical Context
Goldenbaum, Ursula
The Origins and Development of Wolff's Psychology in His German Writings
Pereira, Thiago Constâncio Ribeiro (et al.)
Empirical Psychology: Between Reason and Experience
Marcolungo, Ferdinando Luigi
Wolff and the Dogmas of Classical Rationalism
Dyck, Corey W.
Wolff's Idea of
Mei, Manuela
Wolff on Monadology and "Materialisterey"
Wunderlich, Falk
Wolff and the Logic of the Human Mind
Favaretti Camposampiero, Matteo
Image Composition as an Aesthetic–Epistemological Problem in Wolff's Empirical Psychology
Suzuki, Márcio (et al.)
In-Between Psychology and Moral Philosophy: Christian Wolff's Principle of Natural Obligation
Hüning, Dieter
The Relation Between Psychology and the Other Parts of Metaphysics: Ontology, Cosmology, and Theology
Goubet, Jean-François
Development and Diffusion of Wolff's Psychology Through His Disciples and Followers
Carboncini, Sonia
Wolffians and the Emancipation of Aesthetic Faculties
Heßbrüggen-Walter, Stefan
Wolff and the Beginnings of Experimental Psychology in the Eighteenth Century
Rydberg, Andreas
The Science of the Soul and the Unyielding Architectonic: Kant Versus Wolff on the Foundations of Psychology
McNulty, Michael Bennett
Hegel and Wolff's Psychologies
Euler, Werner Ludwig
"The Most Excellent Psychological Systematist": Wolff's Psychology in the Eyes of Wilhelm Wundt
Araujo, Saulo de Freitas (et al.)