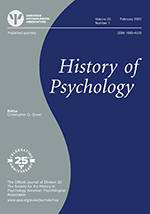 A special issue of History of Psychology on the topic of "Psychology and psychiatry in the global world: Historical perspectives" is now online. Full details below.
"Psychology and psychiatry in the global world: Historical perspectives," by Pols, Hans; Wu, Harry Yi-Jui. Abstract:
Introduces articles in the special issue of History of Psychology, Psychology and Psychiatry in the Global World Part I. The special issue seeks to consolidate and extend the historical analysis of psychology and psychiatry in the global world by bringing together seven articles detailing how theories, techniques, and practices have been translated, adapted, and appropriated in the colonial and postcolonial eras. The contributions demonstrate that it is fruitful to conduct research in the history of psychiatry and psychology together as broader ideational frameworks such as social Darwinism, eugenics, degeneration, and mental hygiene have inspired the development of psychological and psychiatric insights as well as the adoption of their intervention strategies worldwide.
"Racial degeneration, mental hygiene, and the beginning of Peruvian psychiatry, 1922–1934," Rios-Molina, Andres. Abstract:
Between 1922 and 1934, three pamphlets and a series of articles on mental hygiene were published in important newspapers in Lima, Peru. Their authors were Hermilio Valdizán and Honorio Delgado, two members of the first generation of psychiatrists in the country. These mass publications aimed to educate the population on what mental illness was, as well as its causes and symptoms. In addition, they sought to promote the figure of the psychiatrist as a specialist in "madness" whose recommendations should be heeded in family life. To that end, these publications contained true cases, related in melodramatic language, in order to reach a broader audience. Beyond their educative intention, these publications used ideas that Peruvian elites held about racial differentiation, because they were aimed at White and mestizo readers and had the express intention of preventing racial "degeneration." The analysis of this primary source material is complemented with other texts by Valdizán that sought to comprehend the manifestations of insanity among Native Peruvians, for which he used degeneration theory to explain the degree of "backwardness" observed among the races that were considered inferior. This article seeks to analyze the viewpoints held on racial differences by the most significant members of Peru's first generation of psychiatrists, in which degeneration theory was key in explaining the differences between human groups and in justifying the superiority of Whites and Western culture in the Peruvian state's mestizo identity initiative.
Child delinquency and intelligence testing at Santiago's Juvenile Court, Chile, 1929–1942," Vetö, Silvana. Abstract:
This article deals with intelligence testing conducted at Santiago's Juvenile Court, in Chile, between 1929 and 1942. It is based on an analysis of 56 court records containing psychological or psychopedagogical reports filed by the Section for Observation and Classification at Santiago's House of Juveniles, an institution created in 1929 as part of the Juvenile Protection Law. To understand the purposes for juvenile intelligence testing in this field, several articles published at the time by the key actors involved in these institutions will also be analyzed. The results of this research signal, first, that psychology did indeed play a role in the juvenile justice system by laying the groundwork for the idea that it was necessary to measure and diagnose intelligence. The Binet–Simon Intelligence Scale, developed in France between 1904 and 1911 and adapted for Chile between 1922 and 1925, was systematically administered to juveniles in Santiago's Juvenile Court; the results were deployed as technical–scientific recommendations at the service of the presiding juvenile judge. On the one hand, this instrument, supposedly scientific and objective, helped legitimize the nascent field of psychology. On the other, it emerged as a useful tool in its own right to assess children. Second, the notions of intelligence underpinning these practices, while certainly in debt to the American approaches from which they were appropriated, managed to forge a more balanced stance between nature and nurture, positioning intelligence testing as a way of conceiving of and planning to prevent crime and reeducate juveniles.
"Picturing ethnopsychology: A colonial psychiatrist's struggles to examine Javanese minds, 1910–1925," Broere, Sebastiaan. Abstract:
This article explores C. F. Engelhard's struggles to construct psychometric devices for the Netherlands Indies between 1910 and 1925. A young Dutch psychiatrist, Engelhard moved to the Netherlands Indies in 1916, where he applied his clinical experience to subject Javanese individuals to mental assessment devices. He imagined that basic picture tests and one's orientation in time provided apt solutions to the cross-cultural challenges facing him. To turn his prototypes into actual tests, Engelhard had to leave his daily work environment and move into the surrounding villages. Aided by local chiefs and his assistant, Soekirman, he managed to set up temporary testing sites, where he examined hundreds of Javanese individuals. Yet despite his attempts to transform Javanese farmers into subjects capable of taking a psychological test, the Javanese remained free to make—or fail to make—meaning out of Engelhard's images. Even though the psychiatrist went to great lengths in taking into account the particular social and cultural features of psychological practice in a colonial context, a vast chasm remained to exist between him and his test takers. This article examines Engelhard's practices against the backdrop of his training as a Western psychiatrist, colonial ideology in the Netherlands Indies, and the reception of his research by other colonial scientists with a wide range of attitudes about "the native mind."