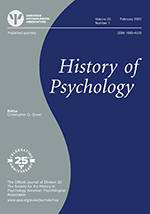 The November 2018 issue of History of Psychology is now online. The issue includes a special section on the digital history of psychology. Full details below.
Digital methods can help you . . . If you're careful, critical, and not historiographically naïve," by Burman, Jeremy Trevelyan. Abstract:
This special section on the digital history of psychology includes target articles by Ivan Flis and Nees Jan van Eck and Jeremy Trevelyan Burman, with comments by Melinda Baldwin, Ted Porter, and Chris Green. In his introduction to the section, Burman explains his original motivation in turning to tools borrowed from the digital humanities: helping graduate students to identify dissertation topics more easily, and thereby reduce completion times for the doctorate, while at the same time doing "good history." Since then, a new field—digital history of psychology—has blossomed. John Burnham, especially, is recognized here as an important interlocutor.
"Through the looking-glass: PsycINFO as an historical archive of trends in psychology," by Burman, Jeremy Trevelyan. Abstract:
Those interested in tracking trends in the history of psychology cannot simply trust the numbers produced by inputting terms into search engines like PsycINFO and then constraining by date. This essay is therefore a critical engagement with that longstanding interest to show what it is possible to do, over what period, and why. It concludes that certain projects simply cannot be undertaken without further investment by the American Psychological Association. This is because forgotten changes in the assumptions informing the database make its index terms untrustworthy for use in trend-tracking before 1967. But they can indeed be used, with care, to track more recent trends. The result is then a Distant Reading of psychology, with Digital History presented as enabling a kind of Science Studies that psychologists will find appealing. The present state of the discipline can thus be caricatured as the contemporary scientific study of depressed rats and the drugs used to treat them (as well as of human brains, mice, and myriad other topics). To extend the investigation back further in time, however, the 1967 boundary is also investigated. The author then delves more deeply into the prehistory of the database's creation, and shows in a précis of a further project that the origins of PsycINFO can be traced to interests related to American national security during the Cold War. In short: PsycINFO cannot be treated as a simple bibliographic description of the discipline. It is embedded in its history, and reflects it.
"Framing psychology as a discipline (1950–1999): A large-scale term co-occurrence analysis of scientific literature in psychology," by Flis, Ivan; van Eck, Nees Jan. Abstract:
This study investigated the structure of psychological literature as represented by a corpus of 676,393 articles in the period from 1950 to 1999. The corpus was extracted from 1,269 journals indexed by PsycINFO. The data in our analysis consisted of the relevant terms mined from the titles and abstracts of all of the articles in the corpus. Based on the co-occurrences of these terms, we developed a series of chronological visualizations using a bibliometric software tool called VOSviewer. These visualizations produced a stable structure through the 5 decades under analysis, and this structure was analyzed as a data-mined proxy for the disciplinary formation of scientific psychology in the second part of the 20th century. Considering the stable structure uncovered by our term co-occurrence analysis and its visualization, we discuss it in the context of Lee Cronbach's "Two Disciplines of Scientific Psychology" (1957) and conventional history of 20th-century psychology's disciplinary formation and history of methods. Our aim was to provide a comprehensive digital humanities perspective on the large-scale structural development of research in English-language psychology from 1950 to 1999.
"A perspective from the history of scientific journals," by Baldwin, Melinda. Abstract:
In their articles for this special issue on digital humanities, Jeremy Burman (2018) and Ivan Flis and Nees Jan van Eck (Flis & van Eck, 2018) examine how psychology journals can be used as sources for large-scale data sets that might illuminate the development of psychology as a research discipline. In my commentary, I seek to situate these two articles in a broader history of scientific publishing and offer further thoughts on the possibilities and pitfalls of data-based methods for the history of scientific publishing.
"Digital humanism," by Porter, Theodore M. Abstract:
Much history of psychology presumes a discordance between its humanistic methods and the focus on rigorous statistical reasoning that is typical of the field it studies. However, the conditions of abundant data typical of digital humanities tend to relax the constraints of tests of significance and to allow greater freedom to try out alternative interpretations within the frame of a single study. At the same time, the elusiveness of rigorous standardization within a very large database, especially if it stretches over wide spaces or many decades, may be seen to demand meticulous source criticism of a sort that has more often been associated with the humanities than with quantitative science. There is even a tendency for the data itself to drift away from its usual function as a means of research and to become itself an object of study, inspiring reflection on how the tools and concepts of a field like psychology may be evolving in response to new constraints or ambitions.
"Digital history of psychology takes flight," by Green, Christopher D. Abstract:
The articles authored by Flis and van Eck (2018) and by Burman (2018) serve as fine examples of the ways in which digital historical methods can illuminate aspects of psychology's past that would probably not be possible otherwise. This success, however, presents no reason to think that digital history is some kind of threat to conventional historiography or that former aims to replace the latter. The two can work complementarily—so closely, in fact, that it sometimes becomes difficult to know which of the two one is practicing at any given moment. Multiple skill sets need not define the historian as being a particular "kind": They just enable any historian to do his or her work more completely than before.
"Digital humanities as the historian's Trojan horse: Response to commentary in the special section on digital history," by Flis, Ivan. Abstract:
The commentaries by Baldwin (2018), Green (2018), and Porter (2018) on the 2 articles (Burman, 2018; Flis & Van Eck, 2018) in this special section provide a unique perspective on digital humanities approaches to history of psychology. Each of the commentators approached the topic through their own lens—Melinda Baldwin as a historian of scientific journals, Christopher Green as a pioneer in digital history of psychology, and Ted Porter as a historian of quantification. In my response, I tried to reply to the 3 comments by critically discussing 4 themes the special section has raised: the relationship between digital history and conventional history, the perspective that takes databases as both sources for historians and objects in history, the relationship between "thick descriptions" and "thin" digital ones, and finally, the role of digital history as a type of a "trading creole" between scientists working in quantified disciplines like scientific psychology and less quantified ones like history. I think the commentators have rightly observed some pitfalls in the uncritical application of digital history. On the other hand, in my response, I argue that the careful use of digital methods, where the user stays in communication with nondigital historians, opens new perspectives for historians of science, historians of psychology, and psychologists themselves. Digital methods are not there to supplant historicist work but to add to it and translate it to new audiences.
"The biosocial foundation of the early Vygotsky: Educational psychology before the zone of proximal development," by Esteban-Guitart, Moisés. Abstract:
One of Lev Vygotsky's most widely known concepts in educational psychology is the zone of proximal development (ZPD), which he began to articulate in the last 2 years of his life and work (1933–1934). This article explores an earlier period in Vygotsky's career—well before he developed the concept of the ZPD—when he was actively involved in pedagogy and educational psychology. With reference to the research and teaching that Vygotsky carried out in Gomel and gathered together for publication some years later, this article highlights his initial conception of educational psychology, and then critically reviews four of his ideas from this first period, namely, (a) the pedagogical importance of the learner's individual experience ("ultimately, the child teaches himself"), (b) the pedagogical applications of interest ("from one interest of the child's to a new interest"), (c) the psychological value of play ("games are the child's first school of thought"), and (d) the link between life and education ("ultimately, only life educates").