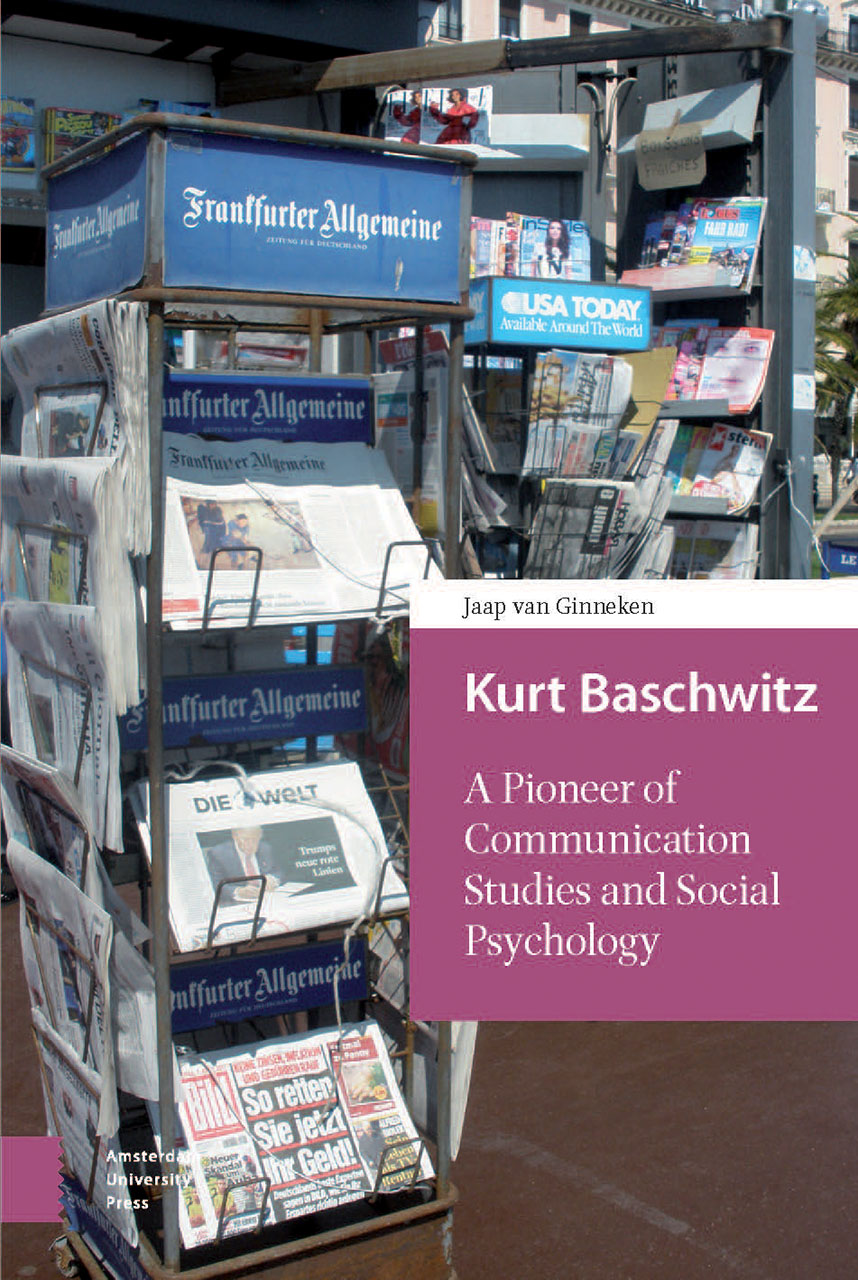 As 2017 comes to a close, we've rounded up some recent releases for your reading pleasure. And if you find yourself in Amsterdam January 9th, 2018 swing by the release of Jaap van Ginneken's new biography of Kurt Baschwitz. Best wishes for the new year!
Kurt Baschwitz: A Pioneer of Communication Studies and Social Psychology, by Jaap van Ginneken, Amsterdam University Press. Event: January 9, 2018, 17:00-18:30 in Amsterdam. Register here.
It was a century ago, that a young Jewish-German journalist rushed overnight from Hamburg to Rotterdam, to replace a predecessor correspondent who had been arrested and accused of espionage – halfway he First World War. Baschwitz was appalled by the mass propaganda he witnessed, and began to develop a book about 'mass delusions' – that became an immediate bestseller upon his return. Thereafter, he became a respected journalist under the Weimar republic, rose to become the editor-in-chief of the influential weekly of newspaper publishers, later published a book about the key role of the mass press in history.

In 1933, he fled to Amsterdam, where Baschwitz was made 'private lecturer' at the university, worked for a confidential agency gathering information about the rise of Anti-semitism in Germany: resulting in the 'Wiener collection', and the current Holocaust Museum in London. As well as for the newly founded International Institute of Social History, that smuggled the archives of socialist pioneers out. He also published books on mass politics and mass persecutions.

Halfway the war and occupation, Baschwitz was arrested in a raid, sent to the notorious Westerbork transit camp, for deportation to the East and certain death. But his daughter brought him papers that got him out for the time being. He went into hiding, she joined the resistance.

After Liberation, Baschwitz was made professor, and helped found the new faculty for political and social science in Amsterdam. Within it, he built a series of key institutions: a rejuvenated press museum, a national press library and a press studies department, as well as journalist courses.
Isis, December 2017
"Pax Technologica: Computers, International Affairs, and Human Reason in the Cold War," by Joy Rohde. Abstract:
From the late 1960s to the early 1980s, a team of U.S. political scientists and computer specialists designed an automated, computerized information system that could ostensibly forecast conflict earlier and more accurately than human analysts. Named the Crisis Early Warning and Monitoring System (EWAMS), it sought to bring international relations scholarship and U.S. national security policy—traditionally qualitative and interpretive domains—under the jurisdiction of a man–machine system. Drawing together the histories of social science, computing, and foreign policy, this essay argues that deep epistemic insecurities led social scientists to apply information technology to the production of policy knowledge. Computers, they hoped, could overcome the innate cognitive limitations that imperiled human decision making. By showing how social scientists' computational zeal overshadowed their commitment to human agency, this essay also demonstrates that the history of science has an important role to play in contemporary debates about the implications of big data projects for knowledge and policy.
The New York Times
"In Praise of William James," by John Willams. Excerpt:
It's a cliché for people unswayed by religion to still believe in William James, to allow him access to their souls because of the way he sneaks in through their brains. A psychologist and philosopher (and oldest brother of the novelist Henry), James was not a follower of any church, and had little academic interest in institutional religion, but he was obsessively curious about the inner experiences of believers.
History of the Human Sciences (OnlineFirst)
"The strange survival and apparent resurgence of sociobiology," by Alex Dennis. Abstract:
A recent dispute between Richard Dawkins and Edward O. Wilson concerning fundamental concepts in sociobiology is examined. It is argued that sociobiology has not fared well since the 1970s, and that its survival as a 'scientific' perspective has been increasingly tenuous. This is, at least in part, because it has failed to move forward in the ways its developers anticipated, but also because it has not seen the developments in natural history, genomics and social science it was relying upon. It is argued that sociobiology has become a purely utilitarian perspective, a way of looking at things, reliant increasingly on studies of the behaviour of social insects for its scientific credentials. The dispute between Dawkins and Wilson is then reconsidered in this light, and it is argued that – regardless of which position prevails – sociobiology's parlous state as a means of explaining action is now difficult to disguise.
"Society, like the market, needs to be constructed: Foucault's critical project at the dawn of neoliberalism," by Carlos Palacios. Abstract:
It has been commonplace to equate Foucault's 1979 series of lectures at the Collège de France with the claim that for neoliberalism, unlike for classical liberalism, the market needs to be artificially constructed. The article expands this claim to its full expression, taking it beyond what otherwise would be a simple divulgation of a basic neoliberal tenet. It zeroes in on Foucault's own insight: that neoliberal constructivism is not directed at the market as such, but, in principle, at society, arguing that the value of this insight goes beyond the critique of a neoliberal present. The neoliberal rationale rather helps him to reveal a unique historical architecture, a latent approach to the social dissimilar to the one that has long predominated in the human sciences. The inversion of homo œconomicus in neoliberal theory amounted to the unearthing of a 'social subject of interest' within civil society. Such a subject, barely recognized by neoliberals who simply instrumentalize it for the sake of the market, demonstrates that the social is not necessarily the natural product of ethical subjects; that society may also need to be constructed.
Review Symposium
"Rationality, a bowl of molasses," by David Teira. No abstract.
"Reasoning one's way through the Cold War (and beyond): Reply to Jamie Cohen-Cole and David Teira," by Thomas Sturm. No abstract.
Social History of Medicine, November 2017. Special Issue: Imperfect Children.
"'Imperfect Children' in Historical Perspective," by Steven King and Steven J. Taylor. Extract:
The health, well-being and welfare of children are pressing modern issues. Whether the vehicle is ballooning figures linked to childhood obesity, the intractable decline in British educational standards in comparison to the rest of the world, unaccompanied child migration, historic child abuse allegations or (and most prominently) the mental health of the young, it is clear that children and young people occupy a unique place in the public psyche and are never far from the social and media spotlights. We have come to realise, as Jean-Jacques Rousseau put it, that 'Childhood has its own way of seeing, thinking, and feeling, and nothing is more foolish than to try to substitute ours for theirs.'
"'His Whole Nature requires Development': Education, School Life and Deafness in Wales, 1850–1914," by Mike Mantin. Abstract:
The history of deaf education has focused heavily on one major issue: the role of sign language and the rise of oralism as a means of suppressing the use of signs. This was a crucial debate which affected the lives of deaf children, informed social and cultural attitudes towards deafness and in many cases spurred resistance from deaf communities. However, other aspects of daily school life and the curriculum of Victorian and Edwardian deaf schools have rarely been commented upon. Focusing on the Cambrian Institution for the Deaf and Dumb, Wales' first deaf institution, this article will examine the teaching of writing and moral, religious and industrial education, all of which constructed an image of the intellectual and moral capabilities of the deaf child. The article will argue that deaf children were prescribed a moral and religious identity, and played an active role in wider Victorian and Edwardian discourses of education and childhood.
"'She was frightened while pregnant by a monkey at the zoo': Constructing the Mentally-imperfect Child in Nineteenth-century England," by Steven J. Taylor. Abstract:
Classifications and concepts of insanity during the nineteenth century were constructed by numerous professional, quasi-professional and lay observers. Consequently, ideas of mental ill health and its causes were varied. This article explores how 'insanity' in children was observed, explained and evolved following 1845. It focuses on medico-cultural exchanges between families and doctors to plot shifts in how child mental health was understood. Numerous causes of insanity were given at admission including terrifying dogs, out of control lunatics and even visits to the zoo shocking expectant mothers so severely that they produced mentally-imperfect children. Such narratives were superseded by a dialogue that still included the family and their ideas, but also served the professional and intellectual agenda of medical men in consolidating their expertise over the insane. The article examines varied ideas of insanity, highlights the importance of the family in influencing medical understanding and introduces the experience of asylums for children.
"Hyperactive Around the World? The History of ADHD in Global Perspective," by Matthew Smith. Abstract:
A recent study has claimed that the global rate of Attention Deficit Hyperactivity Disorder (ADHD) is 5.29%. Any variation in such rates in specific studies, argue the authors, was due to methodological problems, rather than differences in the actual distribution of ADHD. Such reports strengthen the flawed notion that ADHD is a universal and essential disorder, found in all human populations across time and place. While it is true that the concept of ADHD has spread from the USA, where it emerged during the late 1950s, to most corners of the globe, such superficial pronouncements mask profound differences in how ADHD has been interpreted in different countries and regions. In this paper, I compare ADHD's emergence in Canada, the UK, Scandinavia, China and India, arguing that, while ADHD can be considered a global phenomenon, behavioural and educational imperfections remain very much a product of local historical, cultural and political factors.
"Impaired Children in Eighteenth-century England," by David M Turner. Abstract:
People in the early modern period had long been fascinated by 'monstrous births' as portents, prodigies and scientific marvels, but during the eighteenth century attention began to turn to the 'problem' of children growing up with physical or sensory impairments. During the second half of the century, against the backdrop of increasing professional interest in child health, the sentimentalisation of childhood and growing concerns about the costs of a dependent 'useless' population, 'imperfect' children became publicly visible as targets for medical, philanthropic and pedagogical intervention. Using newspapers, child rearing and medical texts, this article examines causes of, and responses to, childhood impairment. While impaired children were often viewed as a 'burden', growing confidence in methods for restoring them to 'utility' began to set apart children with impairments from other people with disabilities.
"Where the Wild Things Were: Victor of Aveyron and the Pre-Emptive Critique of Developmental Disability in the Early Modern Novel," by C. F. Goodey. Abstract:
The history of psychology, with its notions of 'development', has returned regularly to Victor of Aveyron. He has become a test case for the emerging mind-sciences' ability to tame, civilise, educate, and cure. Historians have established first his idiotism, then his mental retardation, and most recently his autism, in various retrospective explanations à la mode as to why he failed to become a fully rational and therefore perfect adult being. Literary and cultural historians, meanwhile, have noted his subsequent influence on the wild monsters of Romantic fiction. What has not been noted is that he has some deficient fictional predecessors too. The present article looks closely at these and sets him in their context. Alongside Victor, as a paradigm case for the early history of psychiatry, three seminal early modern novels are considered, two German and one English: Simplicius Simplicissimus, Wilhelm Meister's Years of Apprenticeship and Tristram Shandy.