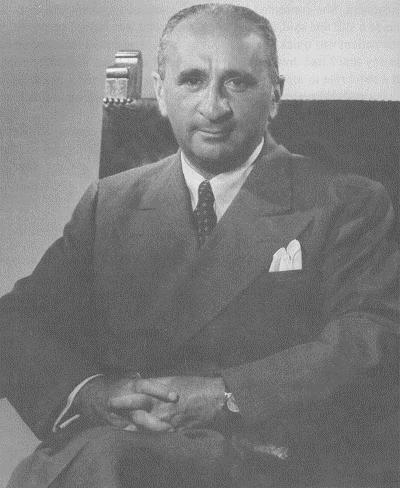 The August 2017 issue of History of Psychology is now available. Articles in this issue discuss psychoanalyst Sandor Rado's influential views on bisexuality, American attitudes toward psychology, technology, and social engineering in the 20th century, and the difficult reception of behavior therapy in France. Full details below.
"Sandor Rado, American psychoanalysis, and the question of bisexuality," by Tontonoz, Matthew. Abstract:
The Hungarian-born physician and psychoanalyst Sandor Rado (1890–1972), who practiced for most of his career in the United States, played a central role in shaping American psychoanalysts' views toward homosexuality. Historians have pointed to Rado's rejection of Freud's notion of constitutional bisexuality as the key theoretical maneuver that both pathologized homosexuality and inspired an optimistic approach to its treatment. Yet scholarly analysis of the arguments that Rado made for his rejection of bisexuality is lacking. This article seeks to provide that analysis, by carefully reviewing and evaluating Rado's arguments by the standards of his own day. Because one of Rado's main arguments is that bisexuality is an outdated concept according to modern biology, I consider what contemporary biologists had to say on the topic. The work of behavioral endocrinologist Frank Beach (1911–1988) is important in this context and receives significant attention here. Rado ultimately distanced himself from Beach's behavioral endocrinology, appealing instead to evolutionary discourse to buttress his claim that homosexuality is pathological. This tactic allowed him to refashion psychoanalysis into a moralistic discipline, one with closer ties to a medical school.
"B. F. Skinner and technology's nation: Technocracy, social engineering, and the good life in 20th-century America," by Rutherford, Alexandra. Abstract:
Psychologist B. F. Skinner developed and promoted a technology of behavior as the basis for widespread social reform over much of his career. In 1948, he published his behaviorally engineered vision of the good life in his utopian novel Walden Two (Skinner, 1948). Skinner's efforts were part of a much larger social engineering tradition that received one of its fullest expressions in the Technocracy Movement of the 1930s. Fifteen years before Skinner's Walden Two, at the height of the Technocracy Movement's public visibility in the United States, technocrat Harold Loeb (1933/1996) published his utopia, Life in a Technocracy: What It Might Be Like. In this article, I place the socially engineered visions of the good life promoted by the Technocracy Movement and by Skinner on an intellectual and ideological continuum to amplify and explore American attitudes toward psychology, technology, and social engineering during the middle decades of the 20th century. I argue that responses to both reveal the possibilities and limits of the social engineering enterprise, and suggest that historians of technology might consider how the history of psychology and other psy-disciplines can deepen conceptualizations of the relationships among the psychological, the social, and the technological in this period.
"Beyond indifference and aversion: The critical reception and belated acceptance of behavior therapy in France," by  Amouroux, Rémy. Abstract:
In 1960s France, behavior therapy attracted the attention of a group of isolated pioneers largely composed of psychiatrists and some experimental psychologists. At the beginning of the 1970s, after a discreet introduction, the development of this movement provoked an adverse reaction related to the French intellectual context, which was characterized by a taste for psychoanalysis. At the height of the Cold War, this new form of therapy was, moreover, seen as a typical product of American culture, and viewed as a technique for mind control that would be incompatible with French humanist values. In this respect, the French rejection of behavioral therapies can also be placed in a broader context, one of anti-Americanism and assertion of the French "cultural exception." Thus, until the late 1980s, the development of the French behavior therapy movement was weak compared with what happened in the United Kingdom or the United States. Conversely, psychoanalysis reigned unchallenged in the French market for psychotherapy. In the early 1990s, the arrival of cognitive–behavioral therapy made a crucial difference. Hybridized with cognitive techniques, cognitive–behavioral therapy was seen as a "synthetic product" better suited to the French culture in psychotherapy than the initial model of "pure" behavior therapy.
"Review of Cold War Freud, Psychiatry in Communist Europe, and Psiquiatría, Psicoánalisis y Cultura Comunista: Batallas Ideológicas en la Guerra Fria [Psychiatry, Psychoanalysis and Communist Culture: Ideological Battles in the Cold War]," Reviewed by Innamorati, Marco. No Abstract.
""Perplexed in the extreme": The Holt–James controversy of 1902," by Vinski, Edward J.  Abstract:
Although William James never again reprised his lectures on psychology for teachers at Harvard, he spent most of the 1890s presenting them throughout the country. For all his complaints about them, this was a fine source of income and he used the opportunity to revise and refine them over the rest of the decade. By the end of the 1890s, he was prepared to put the talks down in book form, and turned to his long-time publisher, Henry Holt. The two men first became acquainted with each other when James agreed to write a volume for Holt's American Science series. Their relationship, however, did not always result in smooth interactions. The monetary side of the agreement rankled James, and in 1902 more trouble ensued. Holt referred to the events of 1902 as the unhappiest of his professional and personal life. Perhaps to preserve James's public image, two prominent early biographies (Perry's [1935] The Thought and Character of William James, and Henry James III's [1920] Letters of William James) made no mention of the incident. In the final analysis, it is ironic that this little volume, based upon lectures James had initially been reluctant to give, and whose value James had so often downplayed, had caused more than its share of drama.
"The digitization of the Wundt estate at Leipzig University," by Meyer, Till; Mädebach, Andreas; Schröger, Erich. Abstract:
Wilhelm M. Wundt (1832–1920) was one of the most important German scholars of the 19th and early 20th centuries and famously founded the first institute for experimental psychology in Leipzig in 1879. Wundt's institute established a teaching and research facility that attracted a large number of students from all over the world and contributed greatly to the development of modern psychology. Until now, the relatively poor indexing and documentation as well as the difficulty in accessing the Wundt estate has prevented a widespread and comprehensive investigation and consideration of these documents. The digitization project described in this article has rectified these problems and will hopefully provide a valuable source for students and researchers interested in Wundt's work.