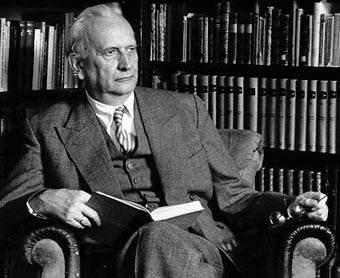 The September 2013 issue of History of Psychiatry is now online. Included in this issue are articles on the Weberian influence on Karl Jaspers' (left) work, psychiatric analyses of Bavarian royalty, Swedish child psychiatry, and more. Full titles, authors, and abstracts follow below.
"The theoretical root of Karl Jaspers' General Psychopathology. Part 2: The influence of Max Weber," by Tsutomu Kumazaki. The abstract reads,
The present study explores and compares Jaspers' methodology of psychopathology with Weber's methodology of sociology. In his works, Weber incorporated the arguments of many other researchers into his own methodology. Jaspers respected Weber as a mentor and presented arguments that were very similar to Weber's. Both Weber and Jaspers began from empathic understanding, but at the same time aimed for a rational and ideal-typical conceptualization. In addition, their methodologies were similar with respect to their detailed terminology. Such similarities cannot be seen with any other scholars. This suggests that Weber may have played an integral role as a mediator between his contemporary scholars and Jaspers. Thus, Weber may have had the most significant influence on Jaspers.
"The Bavarian royal drama of 1886 and the misuse of psychiatry: New results," by Heinz Häfner and Felix Sommer. The abstract reads,
The deaths of King Ludwig II of Bavaria and Bernhard von Gudden, Professor of Psychiatry in Munich, in Lake Starnberg near Munich on 13 June 1886 have often been mentioned in the psychiatric-historical literature and in fiction. Von Gudden had written a psychiatric assessment of the King, rating him permanently mentally ill and incapable of reigning. Ludwig II was declared legally incapacitated, dethroned and psychiatrically interned. We will report on an interdisciplinary research project conducted at the Heidelberg Academy of Sciences and Humanities. Information was collected from state, local and private archives in Germany and abroad on: (1) the correctness of the psychiatric assessment in form and content; (2) the constitutional basis of the deposition; and (3) its background, motives and execution. The results show that the psychiatric assessment was incorrect in substance and form. They highlight how those in power used psychiatry for their own purposes.
"Mental health issues of Maria I of Portugal and her sisters: the contributions of the Willis family to the development of psychiatry," by Timothy J Peters and Clive Willis. The abstract reads,
Contemporary accounts credit Dr Francis Willis (1718–1807) with facilitating the recovery of King George III from his major episode of acute mania in 1788–9. Subsequently Willis was summoned to Lisbon to advise on the mental health problems of Queen Maria I. This article reports the nature of the illnesses of Maria and her two similarly affected sisters, and uses the program OPCRIT to propose diagnoses of major depressive disorders. The high prevalence of consanguinity and insanity among the Portuguese monarchy and their antecedents probably contributed to their mental health problems. The successive contributions of the Willis family from Thomas Willis (1621–75) to his grand-nephew, Francis Willis (1792–1859), are reviewed; the popular image is somewhat inaccurate and does not highlight their part in the development of psychiatry.
"Psychodynamics in child psychiatry in Sweden, 1945–85: from political vision to treatment ideology," by Karin Zetterqvist Nelson and Bengt Sandin. The abstract reads,
In this article, changing treatment ideologies and policies in child psychiatric outpatient services in Sweden from 1945 to 1985 are examined. The aim is to discuss the role played by psychoanalytic and psychodynamic thinking in this process of change. When mental health services for children were introduced in the mid-1940s, psychoanalytic thinking was intertwined with the social democratic vision of the Swedish welfare state in which children symbolized the future. In practice, however, treatment ideology was initially less influenced by psychoanalytic thinking. From the early 1960s, child psychiatric services expanded and the number of units increased. By then, the political vision had disappeared, but a treatment ideology began to evolve based on psychodynamic theories, which became dominant in the 1970s.
"The birth and death of Villa 21," by Oisín Wall. The abstract reads,
From 1962 to 1966 David Cooper ran an experimental hospital ward in Villa 21 of Shenley Hospital, Hertfordshire, England. In the histories of mid-twentieth-century psychiatry and anti-psychiatry, this ward has been almost entirely forgotten, overshadowed by the figure of R.D. Laing and his Kingsley Hall experiment. This study attempts to construct a history of Villa 21 and to reassert its historical importance as a manifestation of British anti-psychiatry and the radically anti-institutional politics of its time. Beginning before the opening of the ward, this article follows the story of Villa 21 on theoretical, practical and personal levels through its experimental journey and into its dramatic aftermath when Cooper's experiment was ideologically obliterated by his successor Michael Conran and physically obliterated by the Hospital administration. It contends that Villa 21 is an example of anti-psychiatry's attempt to engage with the very structure of society at a profound level.
"Battling demons with medical authority: werewolves, physicians and rationalization," by Nadine Metzger. The abstract reads,
Werewolves and physicians experienced their closest contact in the context of early modern witch and werewolf trials. For medical critics of the trials, melancholic diseases served as reference points for medical explanations of both individual cases and werewolf beliefs in general.
This paper attempts to construct a conceptual history of werewolf beliefs and their respective medical responses. After differentiating the relevant terms, pre-modern werewolf concepts and medical lycanthropy are introduced. The early modern controversy between medical and demonological explanations forms the main part of this study. The history of werewolves and their medical explanations is then traced through to present times. An important point of discussion is to what extent the physicians' engagements with werewolves can be characterized as rationalization.