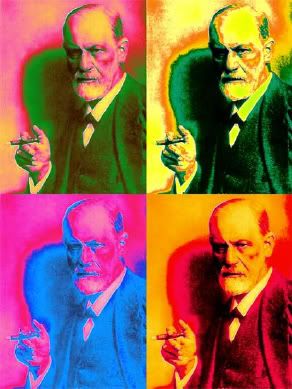 Today's New York Times has an article by the psychoanalyst Leon Hoffman about Sigmund Freud's only visit to the United States, which started a century ago today.  As is well known, Freud was invited by Granville Stanley Hall to give a series of lectures at the celebrations for the 20th anniversary of Clark University in Worcester, MA, of which Hall was President. Freud's lectures, given in German, were translated and became the book The Origin and Development of Psychoanalysis, which has been in print ever since. Hoffman, however, focuses on Freud's relationship with the Boston neurologist, James Jackson Putnam, who invited Freud to his retreat in the Adirondacks, where Putnam became a convert to the Austrian's system of psychotherapy. Two years later Putnam would become the first president of the American Psychoanalytic Association.
Knowing that all was not well with Hoffman's fawning treatment of the encounter, I forwarded the article to the email lists of the Society for the History of Psychology (APA, Div 26) and of Cheiron to see what their reactions might be. Historian of psychology Ben Harris (U. New Hampshire) wrote back in short order. I think his words are better than any summary I might provide.
The errors in Leon Hoffman's account of psychotherapy in America before Freud provide a mini tutorial in how one's professional affiliations can bias one's historical views. Hoffman wants us to believe that the main
concern of J. J. Putnam and colleagues were unscientific, "spiritual healers", who were trying to treat mental illness with "religious and mystical approaches".  He makes it sound like a stereotypical fight between science and superstition.

In fact, Putnam and colleagues had spent the past couple of years collaborating with the Emmanuel Movement and its leader, Rev. Elwood Worcester to create a version of a psychotherapeutic clinic in Boston. Worcester had a Ph.D. from University of Leipzig, having studied with Wundt and Fechner.

Putnam and Boston colleagues ended up renouncing the Emmanuel Movement under pressure from their more narrow-minded MD colleagues in New York and elsewhere, who used the New York Times and other newspapers to charge Worcester with faith healing.

Eugene Taylor [Shadow Culture] and Eric Caplan [Mind Games] and others have told this story well, and it is also one of the plots in George Prochnik's Putnam Camp.

One can't help thinking that today's psychoanalysts such as Leon Hoffman have trouble admitting that non-Freudians and anti-Freudians were doing a quite nice job treating neurasthenics and neurotics in 1909.  They were attacked by neurologists and oher MD's because they were unwelcome competition and too successful at practicing psychotherapy.