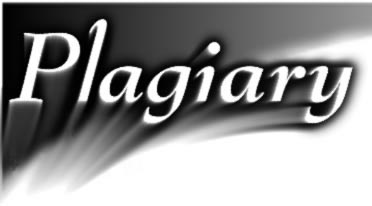 I recently ran across the website for the journal Plagiary: Cross-Disciplinary Studies in Plagiarism, Fabrication, and Falsification. (Actually, it was mentioned in George Reisch and Gary Hardcastle's introduction to the book Bullshit and Philosophy, a collection of chapters expanding on Henry Frankfurt's little philosophical classic, On Bullshit.)
It seems only fitting, given the vast amount of plagiarism and allied vices that we now find in science, history, literature, journalism, etc., that this fascinating topic receive proper academic treatment in its own right.
The journal, which began in 2006, describes its own mandate thus:
A refereed online journal, Plagiary represents a wide range of research topics  which address general and specific issues relating to plagiarism, fabrication, and falsification. Devoted specifically to the scholarly, cross-disciplinary study of plagiary and related behaviors across genres of communication, Plagiary will feature research articles and reports on discipline-specific misconduct, case studies (historical and modern; inter-/intra-lingual), legal issues, literary traditions and conceptualizations, popular genres of discourse, detection and prevention, pedagogy (cheating/academic integrity), technical reports on related phenomena, and other topics of clear relevance (i.e. mimicry, parody, pastiche) along with book reviews and responses to published articles.
It is edited by John P. Lesko, a linguist at Saginaw Valley State University. Its editorial board features a wide array of disciplines, including one psychologist, Joshua D. Landau of York College of Pennsylvania. It is published by the Scholarly Publishing Office of the University of Michigan, but is (encouragingly) under a Creative Commons license.
Some article titles include:
I only wonder how long it will be before someone attempts to "punk" the journal by sending them a submission that has itself been plagiarized from somewhere else.
I'm not sure what any of this has to do with the history of psychology, specifically, but I thought it would be interesting to many of our readers nevertheless.