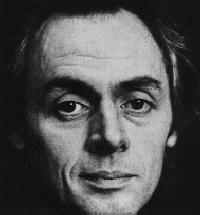 According to an article in today's Observer, the body of Adam Laing, the oldest son of famed Scottish psychiatrist R. D. Laing's second marriage, was discovered twelve days ago in a tent pitched on private land on the Balearic island of Formentera (Spain).
Initial police reports suggested that Adam, 41, had taken drugs and might have been on a suicidal binge following the end of his relationship with a long-term girlfriend, Janina, earlier this year. The post-mortem found that Adam, a tall, well-built and seemingly healthy man, died of a heart attack.
The article also noted that the scene was "scattered with the detritus of a drunken night. Next to him lay a discarded vodka bottle and an almost-empty bottle of wine."
R. D. Laing, who died in 1989, was best known for his proposal that psychosis constitutes an attempt to communicate in circumstances where prohibition and paradox reign. Most famously, he argued that schizophrenia results from a "double-bind" created by the afflicted person's family (e.g., verbally expressing love while behaving in a rejectful manner). Although commonly associated with the anti-psychitry movement, he rejected the label. He wrote many well-known books, including The Divided Self: An Existential Study in Sanity and Madness (1960), Sanity, Madness and the Family (w/ Aaron Esterson, 1964), and The Politics of Experience and the Bird of Paradise (1967).
The Observer article, which includes a fragment of an interview with one of Laing's other sons, Adrian, reports that Laing's own family relations were, ironically, fraught with tension, criticism, and absence.
Adam's life had been the topic of local concern in recent years:
There was talk of Adam's partying lifestyle, his free-spirited take on life and his occasional bouts of depression and heavy drinking. Over the last few years he had made a haphazard living skippering yachts for day-trippers or as an odd-job man in the quiet winter months….

Friends say he had grown melancholic since his separation from Janina, a German diving instructor, at the end of last year. He moved out of the house they shared in Cap de Barberia, a tranquil corner away from the tourist beaches…. Then, a month ago, in an increasingly fragile state of mind, he erected a tent in a wooded area near Janina's home, on private land owned by a British couple he knew. It was here that his body was found, in an isolated field far away from home, accessible only by criss-crossing dusty tracks. It was a lonely way to end a life.
Thanks to Mind Hacks for alerting me to this item.