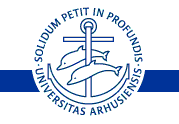 A conference on changes in the ways historical narratives will be constructed in the coming century is to be held on 22-24 November at the University of Aarhus in Denmark. According to the conference website:
This conference brings together leading historians from a number of different fields in an interdisciplinary effort to discuss the challenges, possibilities and ways of writing history today and for the future. The participants will engage in state of the art debates and problematics concerning the conceptualization and writing of history within a range of topical subjects such as place, culture, politics, narrative and forgetting.
"Telling the Past Now" is a keynote conference with more than 10 lectures delivered over two days on the 23-24 November. The conference is open to all interested participants via registration. An initial Ph.d. seminar will take place on Thursday the 22nd of November.