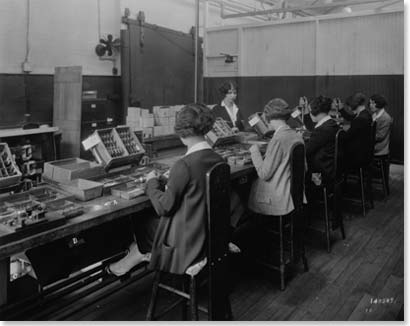 In 1924, the Western Electric company decided to study the impact of various lighting levels on the efficiency of the workers at their Hawthorne Works in Cicero, Illinois. With financial support from the National Research Council, they began their research, only to find null results, or results too complicated for them to interpret. In 1928, they called in Harvard professor Elton Mayo for assistance. Mayo was later joined by another Harvard professor, Fritz Roethlisberger. Over the next 20 years, the Hawthorne studies continued, examining not only lighting levels but also the impact of variables such as rest periods, shorter working hours, wage incentives, and worker group size. Their most famous finding was that research participants change their behavior in response to simply knowing that they are being observed — the so-called "Hawthorne Effect."
The Hawthorne studies are often hailed as the starting point of the application of serious social science to the business and other organizations and laid the foundations for the human relations movement. As professors Michel Anteby and Rakesh Khurana put it in an essay that accompanies the exhibit:
The Hawthorne Studies began in 1924 as an attempt to improve worker productivity at the Western Electric Company's Hawthorne Works in Cicero, Illinois. Ultimately, though, many managers and scholars regarded this comprehensive study… as a manifesto that offered a new vision for reconstructing a shattered world of meanings for both management scholarship and organizational life.
By the same token, the Hawthorne results call into question the generalizability of the results of such studies to the factory floors from which they arose.
The Baker Library of Harvard Business School is now sponsoring an exhibit about these landmark studies and their impact on American business culture. The website includes descriptions, interpretations, photographs, a schedule of talks to be presented at Harvard, and links to archival collections pertaining to the Hawthorne studies' principal figures.
[Thanks to my colleague Michael Pettit for pointing this item out to me. -cdg-]